Join PANE in welcoming Mitch Henderson '98 and the Tiger Men's Basketball to Boston at Northeastern, Sunday, Dec. 18.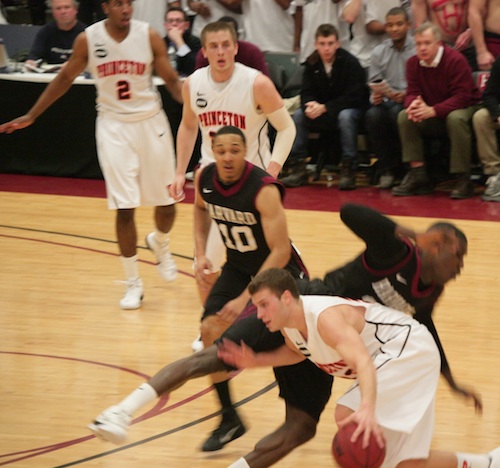 Get an early look at the defending Ivy League champion men's basketball team when the Tigers play their first game ever at Northeastern University, 1 p.m. Sunday, December 18.
NOTE: Free parking is available in the Camden Lot off Columbus Street.
Alumni, friends and fans are invited to meet the players and new Head Coach Mitch Henderson '98 at a post-game cookies & milk reception at the Varsity Club room in Matthews Arena at Northeastern.
Game and reception tickets are only $10 for PANE members & guests and FOPB recipients of this email, $5.00 for youth and undergrads, or $15 for non-members. To find out more information about the event and purchase tickets, please visit the PANE website. You have until Thursday, December 15 to buy tickets at this discounted price. After that date, a limited number of tickets will be available at a higher price.
Once you have ordered your tickets, they will be available at a will-call table at Matthews Arena. Northeastern requires that photo ID be shown to pick up the tickets.
Event Information
EVENT DATE:
Sunday, Dec 18 2011 at 1:00pm
[ iCal ]
LOCATION:
Matthews Arena
238 St. Botolph St.
Boston, MA 02115
Look Who's Coming:
Guest of G Michael Schmidt
Guest of Jon Benson
Daniel Alessandro
Dave Alessandro
Mary Ellen Alessandro
Michael Alessandro
Stephen Alessandro
Aaron Bembenek
Princeton 2012
Alan Bembenek
Jon Benson
Brian Bernstein
Adam Bernstein
John Bossert
Michael Braun
Jeff Bullian
Bithiah Carter
Charlie Greenleaf
Carina Grossman
David Grossman
Luke Grossman
Will Grossman
Andrew Hanson
Gordon Hart
Johnson Hart
Linda Hart
Marjorie Hart
Andrew Hoffman
William Roberts
Scoop Ruxin
Bob Ruxin
Talia Ruxin
G Michael Schmidt
Mary Jo Sisk
Leigh Smith
Elle Sohn
Jeremy Sohn
Rachel Sohn
Shai Sohn
... a total of 50 guests.